A successful event for Escrow London at British Legal Technology Forum in London
On Tuesday 13th September, the Escrow London team were thrilled to be back exhibiting in person at the British Legal Technology Forum at Old Billingsgate, London.
Welcomed by 1000 visitors from the world of law, legal technology and IT security, this event is the leading legal technology conference and exhibition in Europe. With over 50 expert speakers and panellists, the event offered 4 presentation stages and access to over 100 leading exhibitors over two floors.
With the day starting with a 2 minute silence observed in memory of Queen Elizabeth II, the full packed agenda covered interesting topics such as Automation to innovation, The regulation of tech, Managing the Cloud – Hybrid law firm and Technology strategies for big corporate legal departments. The Escrow London booth was well attended by participants to learn more about our innovative SaaS Continuity Escrow solutions and M&A software audit services.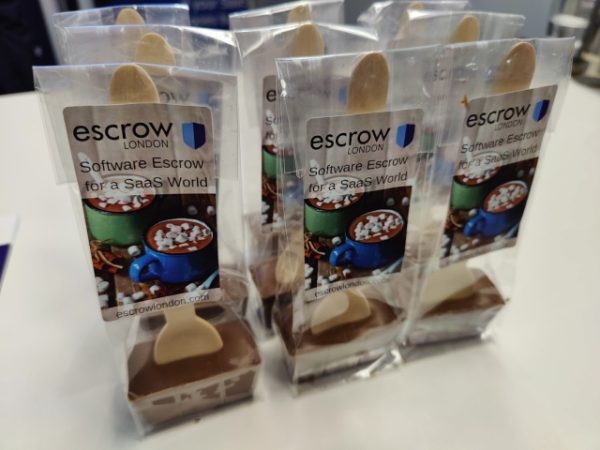 The Escrow London team won a lot of friends by giving out Belgian hot chocolate spoons to visitors on the day.
Evan Lever, Founder and CEO of Escrow London commented, "After the covid pandemic, this was a great first show to exhibit at. Having the opportunity to catch up with our legal community after so long and to help them mitigate against the risks associated with modern service delivery methods such as SaaS was invaluable. A huge thanks to the British Legal Technology Forum organisers and the Escrow London team for all their efforts on the day. We look forward to exhibiting at other events in the near future!"
##
About Escrow London
Escrow London is a global software escrow vendor headquartered in the United Kingdom with additional offices in Atlanta, USA and Sydney, Australia.
We have invested considerable resources into innovation to reinvent software escrow for a SaaS world. Escrow London provides a range of SaaS Continuity escrow solutions suitable for AWS, Microsoft Azure and Google Cloud hosted applications.
We help companies with business continuity, providing additional assurance when investing in technology. As a source code specialist, we also support clients during M&A due diligence including open-source code and software bill of material audits.
Escrow London supports a wide range of clients including enterprise, technology, government and legal advisors.