World Leaders in Software and SaaS Escrow Solutions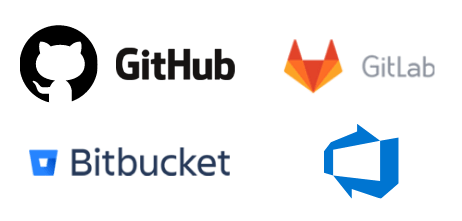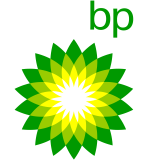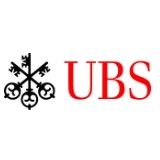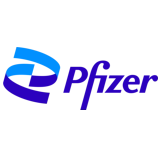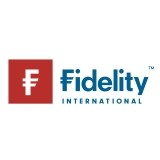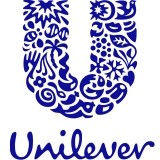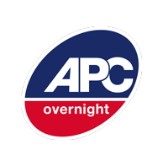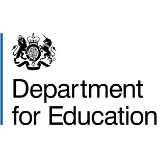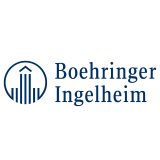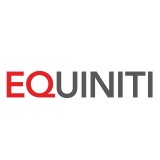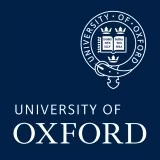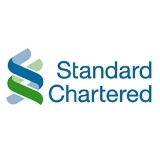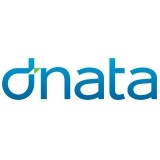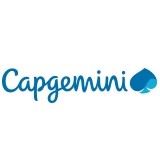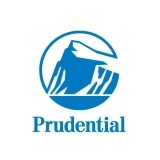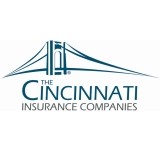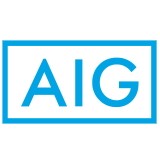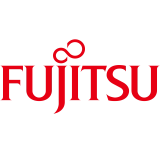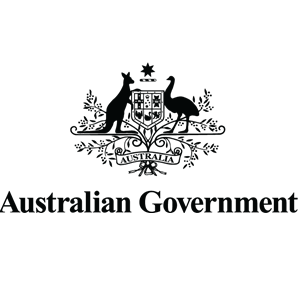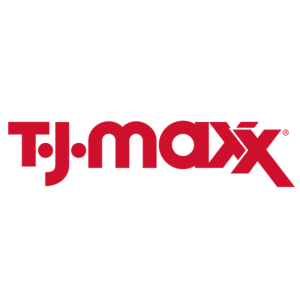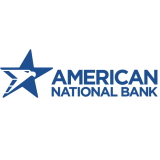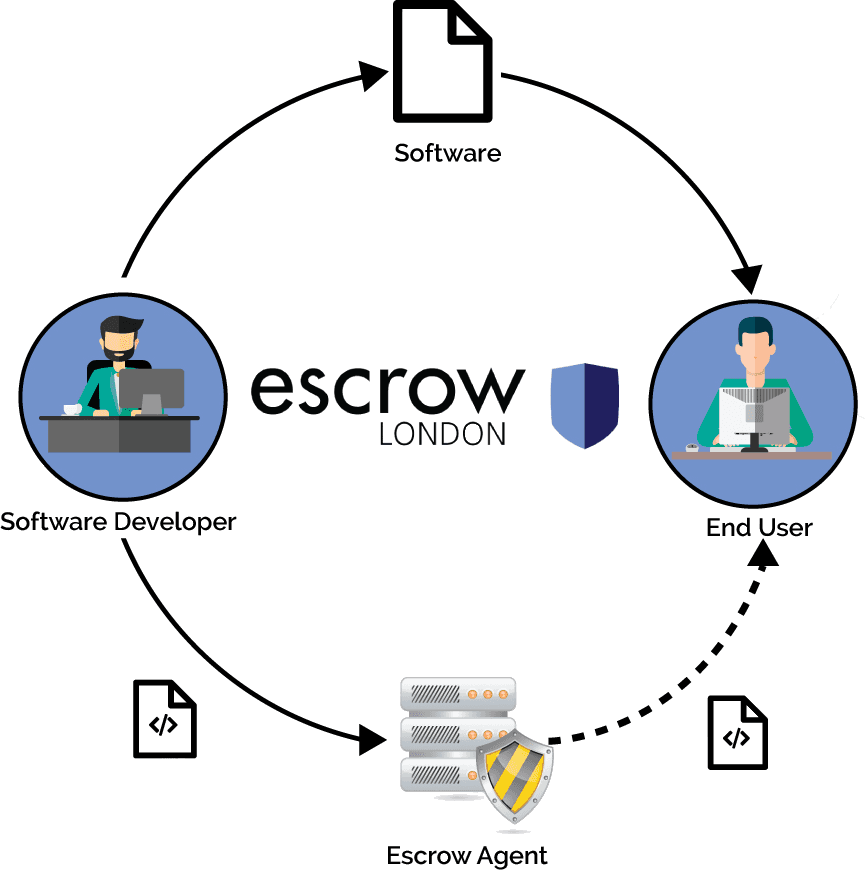 Software Escrow Services for Business Continuity
Software escrow services include the deposit of the source code of software with a third-party escrow agent. Software escrow is, thus typically requested by a party licensing software (the licensee or beneficiary), to ensure maintenance of the software while protecting the IP of the developer.
First, as part of the agreement setup, the Licensor/Depositor will deposit with Escrow London the latest version of the source code. This can be through our automated deposit system directly from GitHub, Bitbucket, GitLab and many other popular version control apps or via SFTP/S3 buckets.
In addition to the deposit, Escrow London performs a file integrity test to ensure the files are accessible and free of viruses as part of the software escrow deposit.
The software source code deposited as part of the software escrow agreement is only released to the licensee if the licensor is no longer able to support and maintain the software.
While the process may seem daunting, the mechanism for deposit and release of the source code is all clearly defined and negotiated upon in the software escrow services agreement.
Escrow London is a multi-national software escrow vendor headquartered in London, United Kingdom. The company focuses on providing software and SaaS escrow services to clients in the UK,  USA, Australia, Europe, Middle East, Asia, Canada, Central and South America. Our US entity, Escrow London North America Inc is headquartered in Atlanta, GA providing local support and service to North America, Central and South America clients.
Types Of Software Escrow Agreements
We offer a range of software escrow agreements to suit every type of licensing contract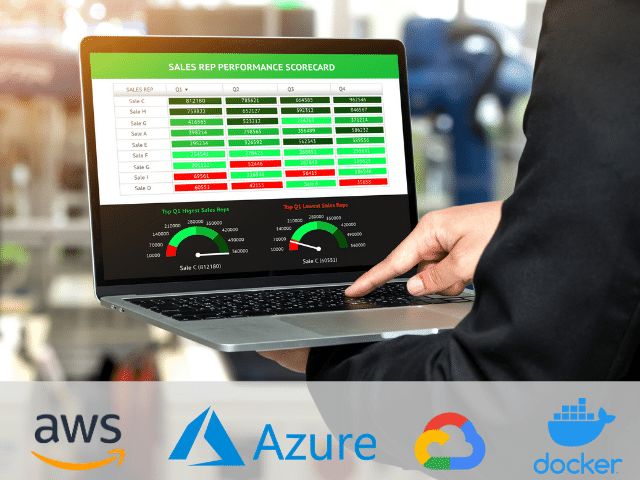 A SaaS Escrow agreement is used for SaaS hosted applications within AWS, Microsoft Azure, GCP or private hosting vendor. Escrow London leads the way in providing SaaS Continuity Escrow solutions that actually work. Our solutions include replicated environments with 90 days of live continuity, deposit of production environment access credentials and the deposit of all the components that are required to spin up a SaaS environment (ie. source code, deployment scripts, databases)
Single Beneficiary Agreement
A Single Beneficiary agreement is made up of the depositor, beneficiary and Escrow London as the independent 3rd party.
A software escrow service agreement of this type is usually used when a client is licensing software from a developer. The agreement clearly outlines the release events and a guideline for the process should a release occur.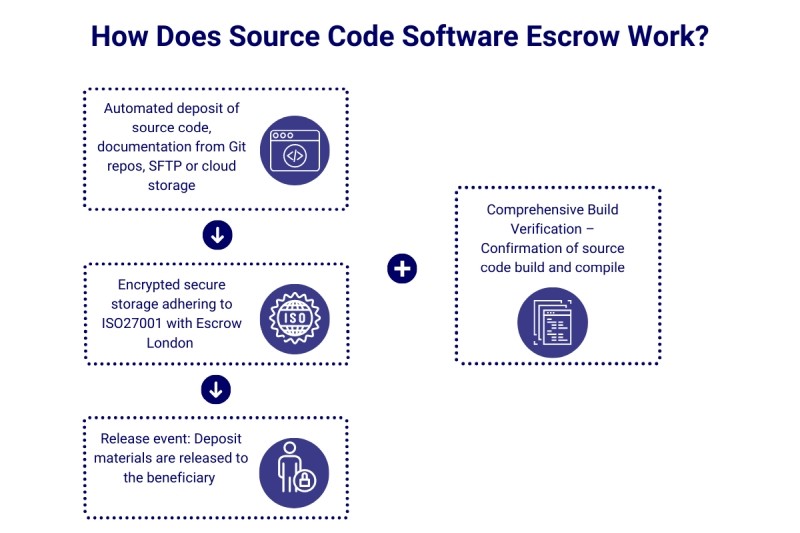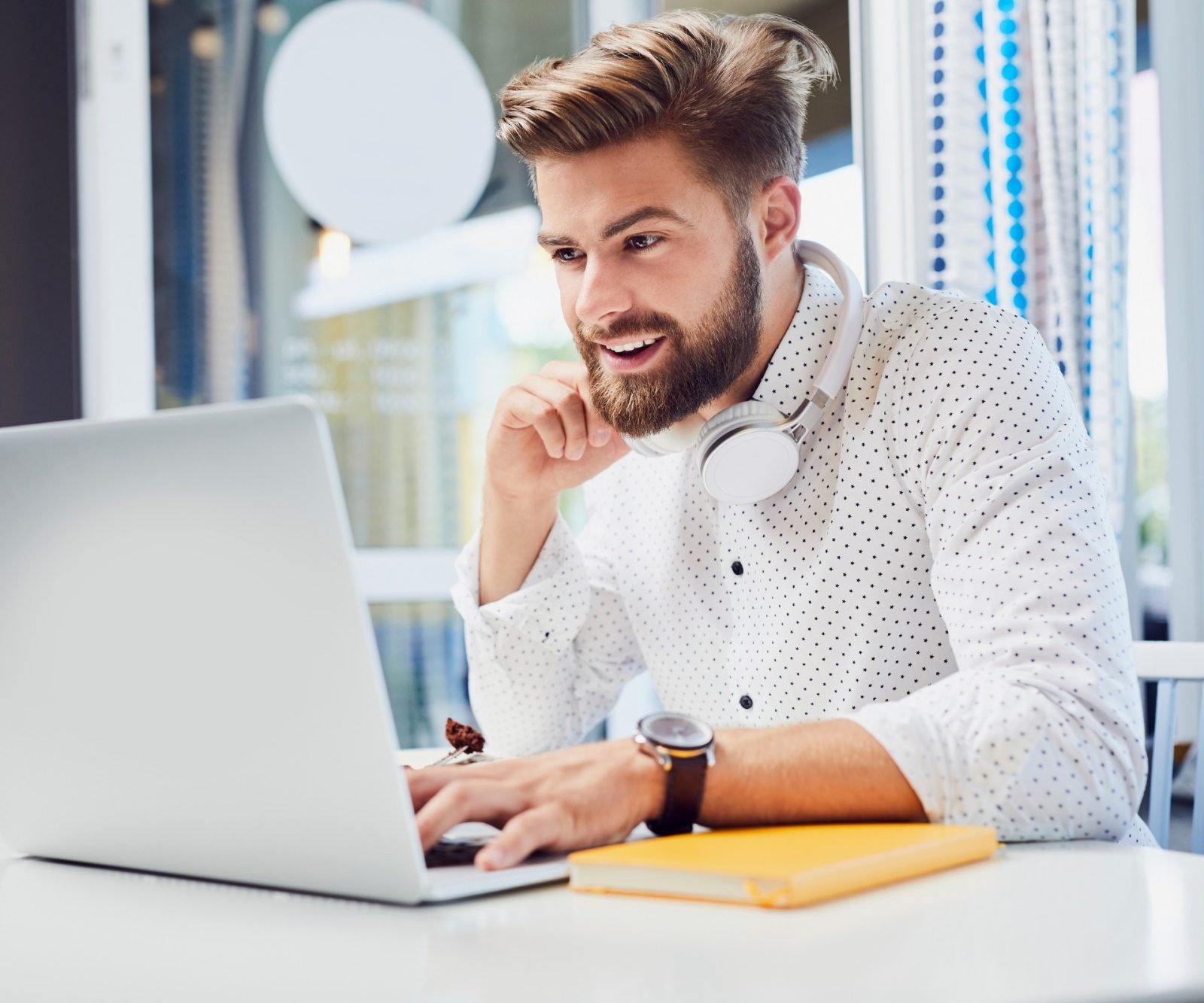 Multi Beneficiary Agreement
Multi Beneficiary agreements are used by a developer to provide comfort to their clients that they have a standing software escrow agreement in place.
By having a Multi Beneficiary agreement in place, under a single agreement, the developer is able to add an unlimited number of beneficiaries to the master agreement. The addition of each beneficiary is executed through a simple appendix to the master agreement.
Another benefit of these types of agreements is they provide the developer with an additional marketing tool as part of their marketing strategy and good business practice.
Data Holding agreements are used when a company is using a developer to create a bespoke application  and the beneficiary owns the intellectual property.
A simple arrangement is established between the beneficiary and the developer to ensure the source code is deposited with Escrow London on a daily basis directly from the developer's Git repository during development.
This type of agreement provides protection for the customer that in the event of a dispute with the developer mid project, another developer will then have the code to continue the project and prevent serious delays.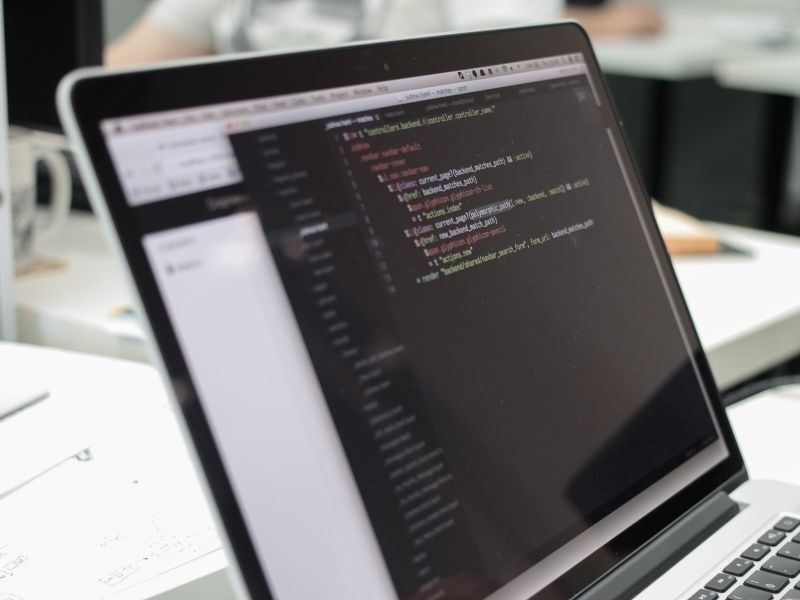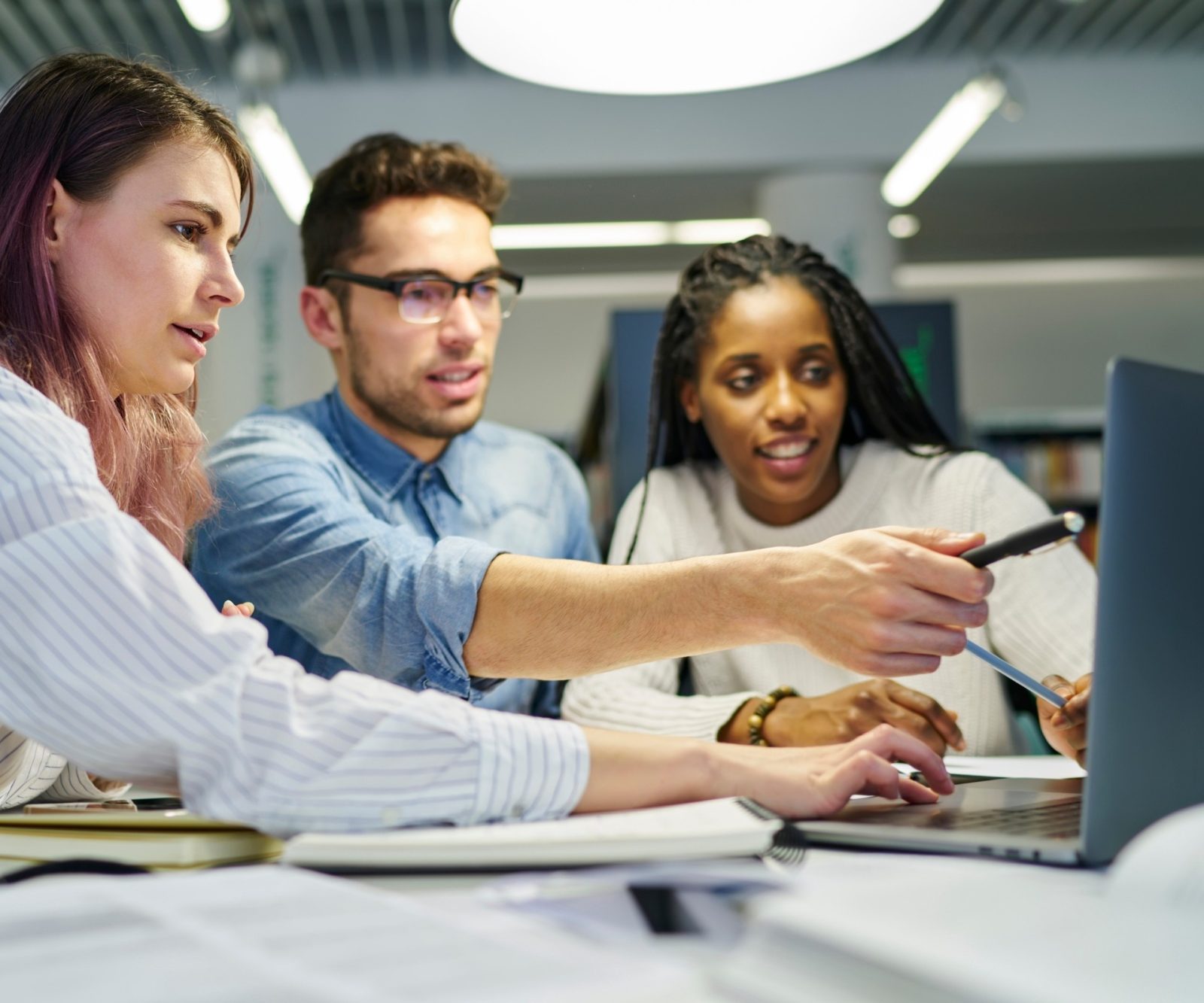 Software Escrow and Verification Services
Escrow London offers an array of verification services to mitigate potential risks with software escrow arrangements. Our mission is for our clients to be comfortable that in the event of a release condition, the source code deposit will be accessible and usable.
Click here for more information on our software verification services.
Beneficiaries often ask about what happens in the event of a release when sourcing and implementing a software escrow agreement.
Until now, the answer from all software escrow vendors around the world has been the same. The source code is released to the beneficiary and they are then on their own in finding the knowledge and expertise to maintain this code.
With innovation at our core, Escrow London has identified that this is a major flaw in the software escrow lifecycle. To address this flaw, as part of our standard release process, we have integrated direct assistance in sourcing suitably qualified developers with the necessary skills to assist with supporting the released materials. This service is unique to Escrow London and provides immense added value to any software escrow solution.
The idea is that in the unlikely event of a release, we won't just hand over the code and disappear. We will offer full support to the the beneficiary and guide them through the daunting and difficult situation whilst assisting them in sourcing new, suitably skilled developers proficient in the programming language used to develop their software.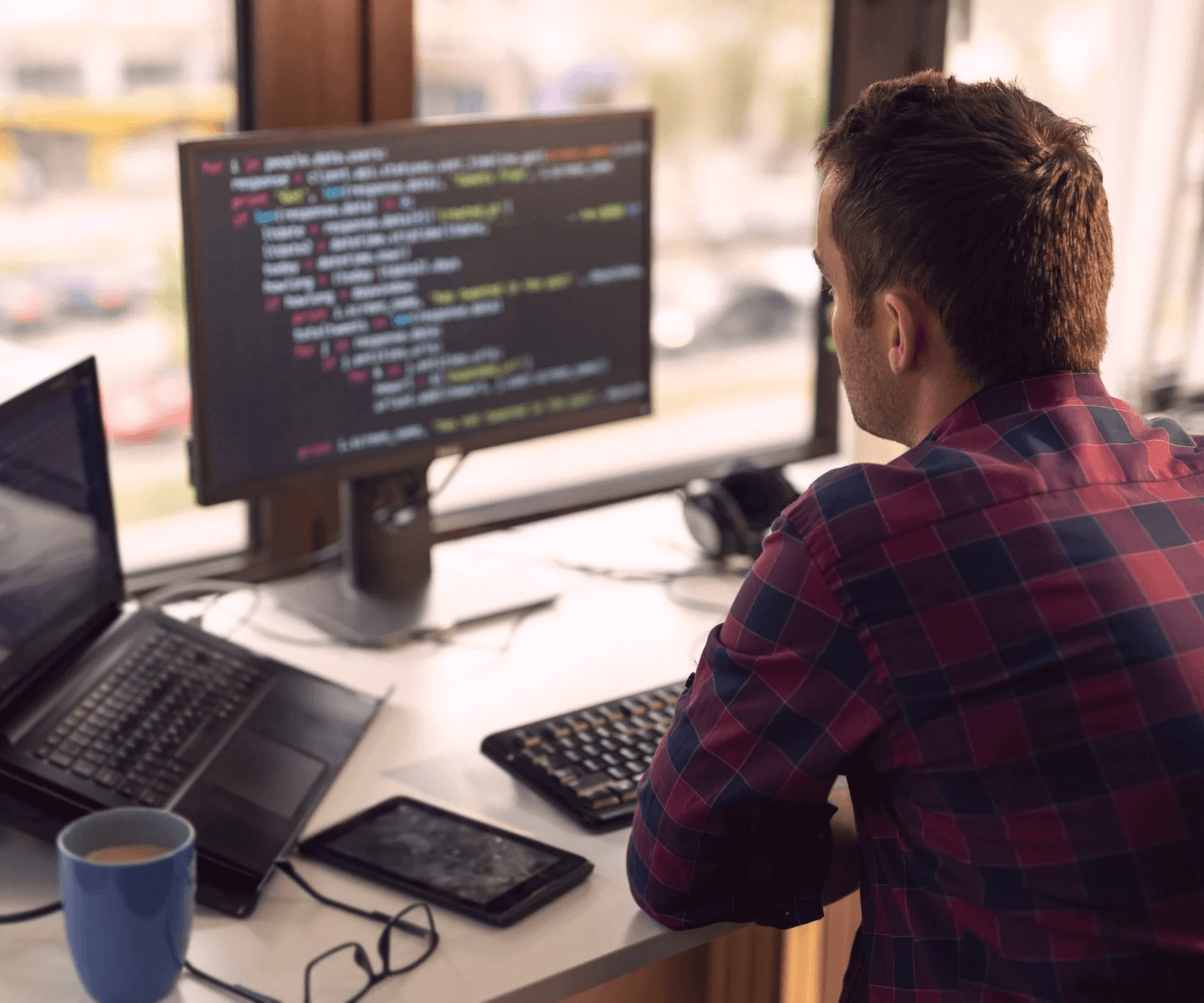 Even if you have a contract in place with another provider we can assist you in seamlessly  moving over your existing agreements.
Because of our unique approach, our customers are always impressed by the substantial savings combined with our world class level of security and service.
How we can help?
The process of transferring your agreements is simple and straightforward. You don't even have to wait for your contract renewal with your existing provider.
We will build for you an escrow agreement that matches the same release conditions as your current provider.
At your discretion, we can facilitate updating the 2nd party on your intention of transferring the agreement to a new provider.
Once the new agreement is signed, we will arrange to receive a new deposit from the developer and set a timeline for future deposits.
Why move over to us?
Our fees are lower than your current provider.
We have the same level of ISO and PCi accreditation as your current provider.
We monitor the frequency of updates from the developer and if it is not in line with the planned schedule, you will know about it.
Everything is managed by us – after all it's your data.
Looking to implement a secure software escrow solution?
Leading Companies Trust Escrow London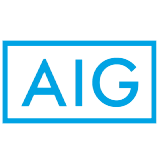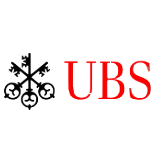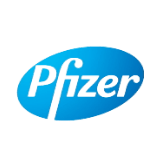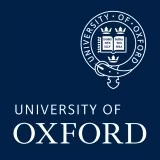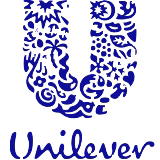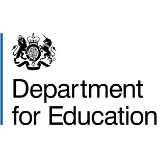 If you have any questions about our services or would like to receive a free quote, simply fill in your details and we will be in touch with you.