Leading American software company embraces innovation with an automated Software Escrow Solution
Background
Established in 1976, Synergex has over 45 years' experience enabling and supporting enterprise software development organizations to thrive in a global marketplace. Headquartered in California, US, Synergex delivers an ever evolving, comprehensive suite of software development and deployment products, plus expert consulting and support services to help its customers keep their business-defining IT solutions robust and continuously move them into the future.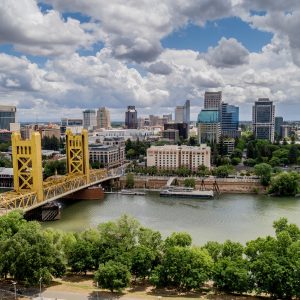 Synergex technologies are at the foundation of enterprise solutions around the world in e-commerce, global logistics, manufacturing, banking, healthcare and other industries. Partnering with Synergex, companies efficiently modernize their industry-leading solutions to take advantage of microservice architecture, modern UI/UX, the cloud, modern developer tools, and much more.
Committed to their customers' success, it's important to Synergex that their customers have the option to protect their applications from unplanned downtime which could result in millions of dollars in lost revenue and lost productivity.
For the last 22 years, Synergex have relied on a heritage software escrow vendor for their escrow requirements. As part of their renewal process, Synergex decided to explore software escrow options that include an automated deposit functionality to increase efficiencies. Following a review process, Synergex have invested in a Multi Beneficiary software escrow agreement provided by Escrow London North America, resulting in many advantages including automated deposits.
Goals
After 22 years of using the same software escrow vendor and the current contract coming up for renewal, Synergex knew that if they were going to switch to another software escrow partner, a smooth transition for its  beneficiaries to a new Multi Beneficiary software escrow agreement was of paramount importance. The Escrow London team showcased its extensive expertise acquired from years of experience within the software escrow sector,  servicing thousands of companies across the US, Canada, UK, Europe, Australia and beyond.
As well as a smooth transition, Synergex needed to ensure the software escrow vendor they selected offered transparency of the agreement when it came to fair and clear fees. Escrow London's flexible service with clearly outlined fees were included in the proposal to Synergex. This provided them a transparent view of the expected cost to onboard their existing beneficiaries, as well as including a single fee for any additional beneficiaries which may be added at a later date. As a company, Escrow London is committed to providing all its customers with value through competitive fees that provide substantial cost savings across the board.
One of the key deciding factors for Synergex moving over to Escrow London's Multi Beneficiary software escrow agreement was having the ability to customize the agreement terms to ensure they worked for not only Synergex, but more importantly its customers. This agreement customization offered by Escrow London proved invaluable for Synergex and ensured a mutual agreement could be obtained quickly and effectively by all parties involved.
Introducing an automated deposit functionality to increase efficiencies was also a major aim for Synergex. Escrow London are the pioneers of developing a system that allows developers to automate their source code deposits directly from their online code repositories. A wide range of platforms are supported with automated deposits including GitHub, Bitbucket, GitLab, AWS CodeCommit, Azure DevOps and many other popular repos. This innovation from Escrow London benefits Synergex's customers, who can rest easy knowing the latest code is being updated in escrow automatically and frequently. The option of having automated deposits also resulted in removing the burden of Synergex developers having to manually deposit their code periodically, meaning they are able to focus on innovating their products and services, providing Synergex with labour cost savings.
Escrow London's ability to provide a simple, streamlined onboarding process for additional beneficiaries was also a key requirement for Synergex, as they expect to scale the service when additional future customers request support with software escrow.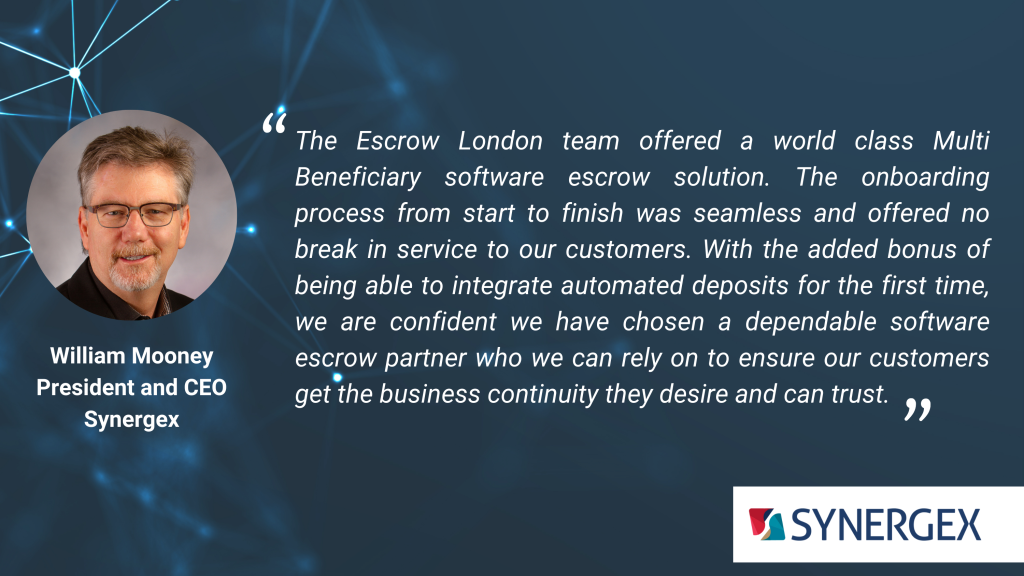 The Solution
Multi Beneficiary agreements are used by a developer to provide comfort to their customers that they have a standing software escrow agreement in place.
By having a Multi Beneficiary agreement in place, beneficiaries can be registered by the depositor very simply and easily by providing their details to their aligned account team. The addition of each beneficiary is executed through a simple appendix to the master agreement and an unlimited number of beneficiaries can also be added to the master agreement.
The Escrow London team consulted with Synergex and implemented its Multi Beneficiary software escrow service which included:
Automated deposits integration with Synergex's specific version control system (Git)
Inclusion of File Integrity Tests to confirm deposit materials were received and accessible
No release fees
Unlimited deposits
Unlimited repositories
All deposit materials securely stored within services located in the US

Outcome
One of the major benefits of using Escrow London's Multi Beneficiary software escrow solution is having an automated deposit integration in place. This is a huge step for Synergex who, for the last 22 years, have been required to make manual deposits of their source code. Synergex are now able to automatically deposit source code directly from their online code repositories. This ensures Synergex have safe and regular back-ups of their source code deposits, removing the burden of having to make manual deposits and resulting in having their business operations running continuously.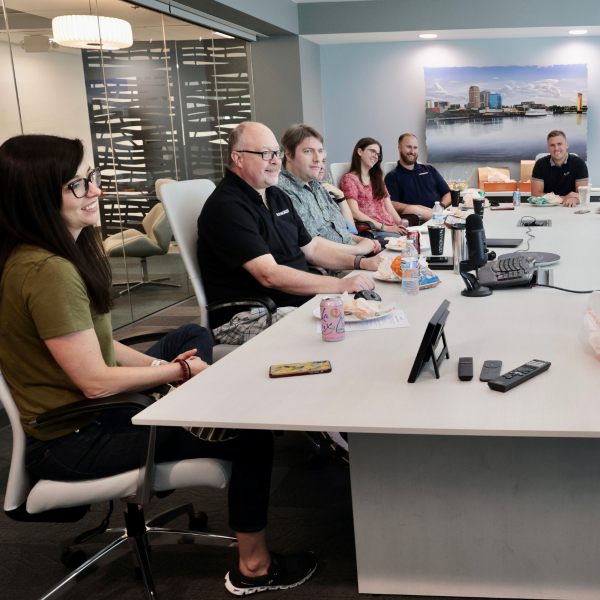 The transition of Synergex's initial beneficiaries from the current contract to Escrow London's Multi Beneficiary software escrow agreement was handled seamlessly and resulted in no interruptions to their software escrow obligations with their customers. Any future beneficiaries needed to be added to the agreement will also be able to be done so with ease. With the contract agreed, signed and implemented before the legacy contract with the previous vendor came to an end, Escrow London ensured that there would be no charge during this interim period, giving Synergex peace of mind that they did not have to pay for both agreements at once.
By partnering with Escrow London, Synergex now have a Multi Beneficiary software escrow agreement in place which enables them to reduce costs due to saving on resource requirements. Synergex can also now maintain its escrow commitments with a modern, scalable solution, well aligned to their needs.

Want to get a quote for your Software Escrow solution?
Escrow London are world leaders in providing software escrow and SaaS escrow services globally through our offices located in Atlanta, USA, London, United Kingdom, and Sydney, Australia.
Escrow London has been independently certified with ISO27001 and ISO27017 covering all aspects of information security including cloud security. Escrow London is proud of their growing list of certifications including:
Certified Amazon Web Services (AWS) Partner;
Verified on the AWS Marketplace for software and SaaS escrow services;
Verified on the Microsoft Azure Marketplace for software and SaaS escrow services;
Approved vendor of software escrow and SaaS escrow services to the UK Government under G-Cloud 13.
Contact us to learn more about how we can implement a Software or SaaS escrow solution into your business.