Escrow London celebrates success at this year's Fintech Week London 2023

Escrow London, a global provider of software escrow and SaaS continuity escrow services recently exhibited at Fintech Week London 2023 at Tottenham Hotspur Stadium on 19-20th June. The event brings together industry experts, innovators and thought leaders in the fintech space to showcase ground-breaking technologies and discuss the future of finance.
At the event, Escrow London showcased its innovative range of software escrow and SaaS continuity escrow solutions, which provide fintech companies and their clients with the following benefits:
1) Risk mitigation: With fintech companies relying on critical software applications to deliver their services, our software and SaaS continuity escrow solutions help mitigate the risk of a software vendor going bust, discontinuing support or failing to meet contractual agreements. Our services ensure the end client has access to the source code and related materials needed to continue to maintain or modify the software if necessary.
2) Business Continuity: In the event of a software vendor's failure, bankruptcy or other unforeseen circumstances, our software escrow and SaaS continuity escrow solutions enable fintech companies to continue their operations, with the client being able to access the escrowed source code, documentation and other materials for business continuity.
3) Trust and Confidence: Having a software escrow agreement in place ensures trust and confidence between the fintech company and its clients, providing assurance that measures are in place to safeguard their software investment.
The exhibit generated a lot of interest among visitors, with many companies expressing interest in learning more about the benefits of Escrow London's software escrow and SaaS continuity escrow solutions. The UK team were on hand to provide information and answer questions, as well as helping raise awareness of how to comply with new PRA and Bank of England regulations around critical third party suppliers, something that is a hot topic among financial institutions today.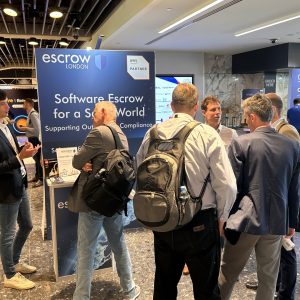 "Exhibiting at Fintech Week London 2023 was a great experience that exceeded our expectations," said Evan Lever, CEO and Founder of Escrow London."We were excited to showcase our innovative software escrow and SaaS continuity escrow solutions to financial and fintech professionals, as well as being able to share our expert knowledge on how financial institutions can comply to the ever growing list of regulations around using critical third-party suppliers. Our teams dedication, coupled with the great response from attendees, solidified our belief that Escrow London's solutions are at the forefront of helping the financial industry protect their IT investments and maintain their software in the event of software supply-chain disruption."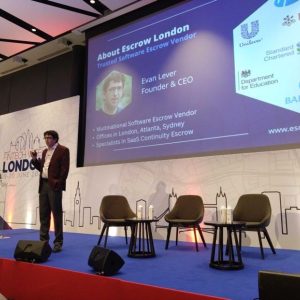 As well as exhibiting at the show, Evan Lever, also presented to attendees on 19th June. His keynote titled, "PRA's Outsourcing and Third-Party Risk Management Regulations Compliance," was greatly received and generated a lot of interesting discussion.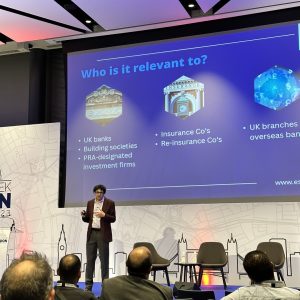 During his talk, Evan delved into the complexity of ensuring continuity if a critical software vendor fails. A detailed case study was also shared, highlighting the strategy a UK bank has implemented to comply with the PRA regulations. The adoption by financial institutions of fintech solutions has greatly increased the risk of third-party reliance. Financial institutions are therefore required by regulation to ensure that if the fintech company fails, they have a tested exit strategy.


If you would like to speak to Escrow London to ensure your business is compliant with the recent PRA outsourcing and third-party risk regulations, then please do not hesitate to contact us.

##
About Escrow London
Escrow London is a global software and SaaS escrow company with offices in London, UK, Atlanta, USA, and Sydney, Australia.
We have invested considerable resources into innovation to reinvent software escrow for a SaaS world. Escrow London provides a range of SaaS Continuity escrow solutions suitable for AWS, Microsoft Azure and Google Cloud hosted SaaS applications. We support a wide range of clients includes major law firms, banks, central banks, insurance companies, technology companies and government organisations.
To find out more about Software Escrow and SaaS Escrow, visit our YouTube channel.